On February 19, 2018, 16 union brothers of the Local 1863 Retirees Club visited the Toronto Auto Show.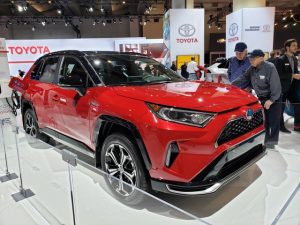 Seen in the photo are: IAM&AW LL 1863 (now LL 1975) brothers Brian Pollock and John White looking over a Toyota 2021 model RAV4 Prime concept car.
This was our first trip for 2020, and hope to have some more later. The visitors really enjoyed their trip, which will be described at the Local 1863 Retirees Club meeting in the Goderich Legion, Branch 109, Kingston Street, Goderich, on March 11th.